Advantages of sitting in the last row on a plane
If I could have a special power, it would be the ability to travel at the speed of light. No more long car journeys, or flights that seem to go on forever, especially if you have a bad seat allocation.
Whenever I book a flight, being to cheap to pay for the privilege of securing my ideal seat, I pray at check-in that the computer will be kind to me and not give me a seat at the back.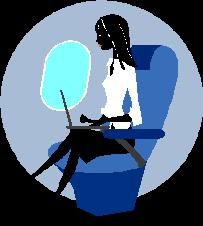 But what if, on a long haul flight, you get stuck in the final row? How do you cope, how do you find positivity, knowing you are stuck near the galley or god forbid the toilets, for six plus hours?
Words of wisdom
On October 27, 2011, Caroline Clarke of business magazine Black Enterprise, wrote a great article on '6 Good Things About the Worst Row on an Airplane.' Somehow Ms Clark has found a number of ways to maintain a positive outlook, when seated where every traveller dreads - the very last row. I enoyed her witty article so much I thought I would share her six observations and tips, for embracing the silver lining when in such a situation, with you:
"...in the very last row of coach on a classic 757 that didn't have a single available seat. I was in row 44.  ... in an effort to help all of my fellow frequent fliers, here are the results of my efforts to identify the "perks" of a situation that at first seemed to lack any.

Great Service: In the last row, you're so close to the galley, you can smell everything happening in there (which, since airlines have given up cooking, isn't much). You're the first to be served a beverage and the tiniest possible packaged snack ever created. Of course, if you're a big spender, you can buy something heartier without having to ever worry that the red wine, beer or sandwich you want is going to run out before your row is reached.

Safety First: Not only are you close to the exit without having to bear the heavy psychological burden of sitting in the exit row (are you really equipped to rip that door from its hinges, toss it from the plane, and play hero in a crisis?), you are actually sitting smack under the plane's emergency medical supplies, including oxygen and a defibrillator.

No Room…But a View: Sitting in the back of the plane, you have a clear view all the way to the cockpit, which means that you don't have to crane your neck to see if there's a line for the bathroom. You can sit back (well, not really back, since your seat doesn't recline in the last row) and relax, not bothering to get up until that little "vacant" sign slides into place.

Congeniality Corner: Not only will you get to know the flight attendants stationed in the galley right beside you really well, you'll get to overhear all of their conversations, which could easily be more entertaining than the in-flight movie you watched on a previous flight. Also, you're guaranteed to make fast friends with your seat mates, who will be just as eager as you are to commiserate about your shared seating fiasco.

No-Kick Zone: For anyone who has ever endured a trip with a child kicking their seat from behind, this is a big one! For some, it might be reason enough to actually request the last row! No one is behind you. No little kickers, screamers, coughers, tappers, gas-passers or other junior travelers that only a mother could love.

Better Survival Odds: I read a statistic years ago that said you are more likely to survive a plane crash if you are seated in the rear of a plane than in the front. Of course, this is logical. As to whether it's actually true, who knows. If you're stuck in a last-row seat, it's a good thing to console yourself with nonetheless. Those folks in first class, with their clean blankets and pillows, their hot meals and fresh-baked cookies, their leg-and-butt room and reclining seats, their spacious overhead bins, practically private bathroom, and drinks-on-demand… in a pinch, they're more precariously perched than you are.

So, you see, there's a lot to be glad about if you find yourself riding the back of the plane. Of course, this assumes you have a window or aisle seat. Back row, middle seat? The best you can hope for is that you'll sleep through the entire ordeal."
You think?
Have to be honest, although she states her case very well, and nearly had me 'better survival odds,' my sunny disposition would not be able to fake it through the other five tips, I'm too neurotic a flyer. But now that I do know, I shall revisit her insane optimism, should God forbid,  if I ever find myself in such a situation.
Share your insights and experiences
So over to you, have you ever been stuck in the last row of economy / coach? What was your reaction? And if you have any coping strategies, please share.
Read the full article here: http://www.blackenterprise.com/2011/10/27/6-good-things-about-the-worst-row-on-an-airplane/2/
Share this post