Women Travellers! For the Perfect Trip to NYC Travel With Lipstick City Guides
New York City has always been a favourite destination for women, and now our trip can be even more enjoyable with a new photo guidebook, New York: Lipstick City Guides from new author Debbie Lindsay. Debbie's guidebook is written from a female perspective, and aimed at women travellers. 
Read on to share my inspiring chat with Debbie, as she takes me on her journey from idea to publication, and to find out how to win a free copy.
1. Debbie, before we talk about your book, please tell us about yourself.
Debbie: For me travel is a mesmerising fascination. As a child, my father was in the Navy. When not at home he was off to faraway places, sending postcards from pastures new, entrancing my every thought. Some of those cards are still with me today as a poignant reminder of him - the distant lands he visited, and of a desire, that has never left me, to travel the world.
2. Please give us a synopsis of your guide and tell us how it differs from other New York City guidebooks?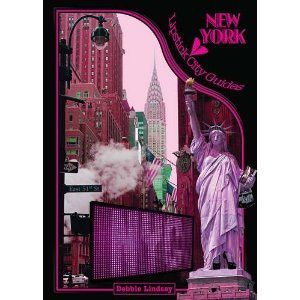 Debbie: My guidebook is called New York: Lipstick City Guides

, written from a female perspective and filled with our (women) favourite things. It is well documented that women and men have different desires, even when travelling together, however it is often women who take care of the detail. 
Aimed at female travellers, both armchair and actual, the world over, "Lipstick City" seemed the perfect name. Even tribal women in some of the remotest areas on earth, wear some form of "lipstick", and it universally connects all women. The logo is a pair of lips sideways on, though because it is tilted at a slight angle, it could be a heart which also has global appeal. 
New York: Lipstick City Guides

 is an appealing mix of glossy magazine, lifestyle publication and traditional guidebook with stylised and detailed maps. This is a fun travel guide with an attractive feel, "handbag friendly," great "flick-ability" and hopefully, something to treasure.
The three main city areas of Uptown (green), Midtown (pink) and Downtown (blue) are colour coded within each chapter, and where possible, this guide is arranged alphabetically for ease of use, unlike many others on the market.

You'll find chapters that include shopping, fashion tours, romantic breaks, hen weekends, quilting classes, film location sites, New York cocktails, weddings (including wedding dress shops, wedding planners, wedding venues and places to hold your reception), plus luxuries and limousines. Celebrities, books, songs, handy travel gadgets and Afternoon Tea are also featured, all in one easy to use and carry guidebook. 
All the hotels are hand-picked for their charm and character, restaurants chosen for variety and atmosphere, whilst bars include those where you might spot a celebrity, have striking views, serve cocktails, or play live music. All of the usual subjects are also covered, from theatres, parks and museums, through to buildings, landmarks, tours and weather.
So whether travelling with your husband, boyfriend, girlfriend or alone, New York: Lipstick City Guides

 is all you need to explore, experience and enjoy New York City.
3. Debbie, please tell us how the idea for New York: Lipstick City Guides

 came about?
Debbie: With a working career spanning 34 years in the hotel and travel industries, New York featured regularly as a holiday destination I was selling and as a city I visited often. After countless trips and using many popular guidebooks, I felt there was something lacking, and knew the time was right to write my own. The chapter headed "My Love Affair with New York" sums up why the first in this series, had to be the "Big Apple." The rest, as they say, is history.
4. What was your writing and photography process, and what were some of the challenges you faced along the way?
Debbie: After years collecting articles, news snippets and rough notes of places visited when I was in New York, I started the writing process. At times it was a long and lonely business, but also exciting and rewarding as I watched it come to life. 
I self-funded New York: Lipstick City Guides

, so my limited resources meant spending time alone in New York, last summer, taking photographs and completing my research. For 12 hours every day, I pounded the streets, often in 95 degree heat, armed with a digital single lens reflex camera, Canon EOS 550D Digital SLR Camera. This was the most enjoyable part of the entire journey, drifting through New York magic. A tough job but someone just had to do it!    

The strangest thing during this whole process has been acknowledging my own achievement; the most surprising was how unfazed and non-judgmental New Yorkers were about how people look. Visting many high class establishments whilst completing the photography, often found me alone, hot and sweaty from hours tramping the streets, yet everyone made me welcome, chatted and showed an interest.
New York: Lipstick City Guides quickly took on a life of it's own, some days I spent eight to 10 hours writing. The hardest aspect was respecting my motivation on a day to day basis, and walking away when it didn't feel right. 
The book, in it's entirety, took 16 months to write, resulting in 78,000 words, 'though only 41,000 were used in the printed version.          
Hoping for a mainstream publisher, I received a dozen rejections before, with no experience in this field, I decided to self publish. So I set up two companies, Lipstick City Guides Ltd and Lipstick Publishing, (however with hindsight just one would have sufficed), applyed for an ISBN number, registered a trademark and explored every detail from layout to design.
My next task was to find a graphic designer and print firm, to bring every aspect of my dream to life. The book, written in Microsoft Works was converted into Word for the designer. The photographs were on memory sticks and the graphic guy combined the two. We skyped daily, chatting in detail about every chapter and my vision for each, whilst page layouts (272) were sent by email for my final approval. This process took around three months.
Once the book was complete it was emailed in a PDF to the printers (Gomer Press) for the production side, having already visited their facility to view the various processes of  litho printing and limp sewing. I then chose weight and type of paper, and sample pages were sent.
5. Debbie, now that your guidebook is published how do you market it – on and offline?

Debbie: Marketing and PR were never part of the initial plan, so each had to be tackled, learnt and conquered. This process is ongoing and undertaken daily, along with "tweeting", "blogging" and "LinkedIn". Each connection made is a way of getting brand recognition for the book. Joining the Sherborne Literary Society, Enterprising Women and AWTE was also part of the process and a way of spreading the word.
6. What and where to next, e.g. do you have plans for another city guidebook if so which city?
Debbie: Once this New York travel guide is established, the aim is to update it every year and to write a second guidebook. Approached by the International Tourist Office in Thailand suggesting Bangkok as a possibility, it is good to know there is an interest in the concept. However, there are several other places also under consideration, so watch this space….

7. What one piece of advice would you give anyone with the desire to publish a travel guidebook?
Anyone hoping to one day write and publish a travel guide, might
want to investigate every aspect before starting the process. Things to consider include photography, printing and design, through to applying for an ISBN, setting up a publishing company and deciding on a trademark to name a few.
Pick somewhere you know and love, as this makes the whole process more enjoyable for you and the reader.
Writing and researching a book can be a long and lonely process, so find someone to share your dream, and finally, step away each time you have had enough, so when you return, it will be with renewed enthusiasm.
8. Where can we buy your book and how much does it cost?
Debbie: The finished product is now available from Amazon.co.uk, Books Etc, Waterstones.com, the Bailey Hill Book Shop Castle Cary Somerset and Winstone's Book Shop Sherborne Dorset. Cost: £14.99 - 15 plus delivery.
9. Finally on the subject of travel - name one thing you always take when you travel (work and / or holiday) and one thing you are happy to leave behind?
Debbie: When travelling, my two "must haves" are a torch and compass. The torch so I can always find my way, and a compass to know the direction of home. By way of contrast, it is good to leave behind the stresses and strains of everyday life and to lose myself in a different world. Travel opens the door to another universe and  for me, is a never ending joy.
Win a free copy
Debbie has kindly donated a copy of New York: Lipstick City Guides to giveaway to one of you. To win it, all you have to do is post, in the comment box, below, tell me:
"What do you love about New York, e.g. your favourite places to visit / hangout? or if you haven't yet visited the Big Apple, why would you love to go."
This prize draw ends on July 28th, 2012, and the winner will be notified no later than July 31st, 2012.
***
Finally, to read more writing insights from other women travel writers, travel to the Diverse Traveller website here.
Prize draw terms and conditions:
Prize draw open to women living in UK only.

Only one entry per UK household; entrants must be aged 18 or over. 

Entry must be posted in the comment box of this blog [Ola's World] only.

Responsibility cannot be accepted for any lost on-line entries.

The prize consists of ONE copy of

New York: Lipstick City Guides

.

The winner will be chosen at random after the closing date of July 28th, 2012 by Ola, the blog owner.

The winner will be notified by Ola Fagbohun by email no later than July 31st, 2012.

The name and entry of the winner will be published on the Ola's World blog.

The prize is not negotiable and cannot be exchanged for cash in whole or in part.

The decision of the author is final and no correspondence or discussion shall be entered into.

Promoter: Diverse Traveller, 72 Bannerdale Road, Sheffield, S7 2DP.
Share this post